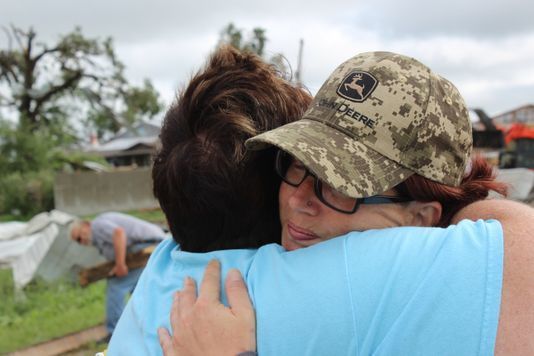 Community members step up to aid Waupun, Alto tornado victims.
WASD
Thursday, August 30, 2018
Story by Colleen Kottke, Wisconsin State Farmer
TOWN OF WAUPUN – Nothing tests the fabric of a community's character like hard times.
Just minutes after a tornado carved a path across ripening corn and soybean fields in Fond du Lac County Tuesday afternoon, leaving behind a wake of uprooted trees, mangled farm buildings and devastated families, concerned citizens raced to the scene to offer aid.
The sounds of chainsaws, generators, scraping metal and machinery filled the air as community members began to help their neighbors wade through the destruction wrought by the late August storm.
"Yesterday people began pouring into the yard with trucks and trailers. Even if they didn't know a thing about cattle, it didn't matter, they were here to help us get our animals out of the barn and delivered to area farms," said Danielle Wetzel. "We didn't have to call anyone."
The Wetzel's farm, Pebble Knolls Dairy located just east of Highway 49 on Hemp Road, bore the brunt of the EF-1 tornado, one of seven confirmed tornadoes on Aug. 28. The winds generated by the storm – estimated at up to 100 mph – leveled the buildings sheltering the milking herd and pre-fresh cows, drove two-by-four planks through the walls of one of the family's homes and bent sheet metal around the branches of a tree like twist-ties.
Continue reading the story by clicking on the link below.