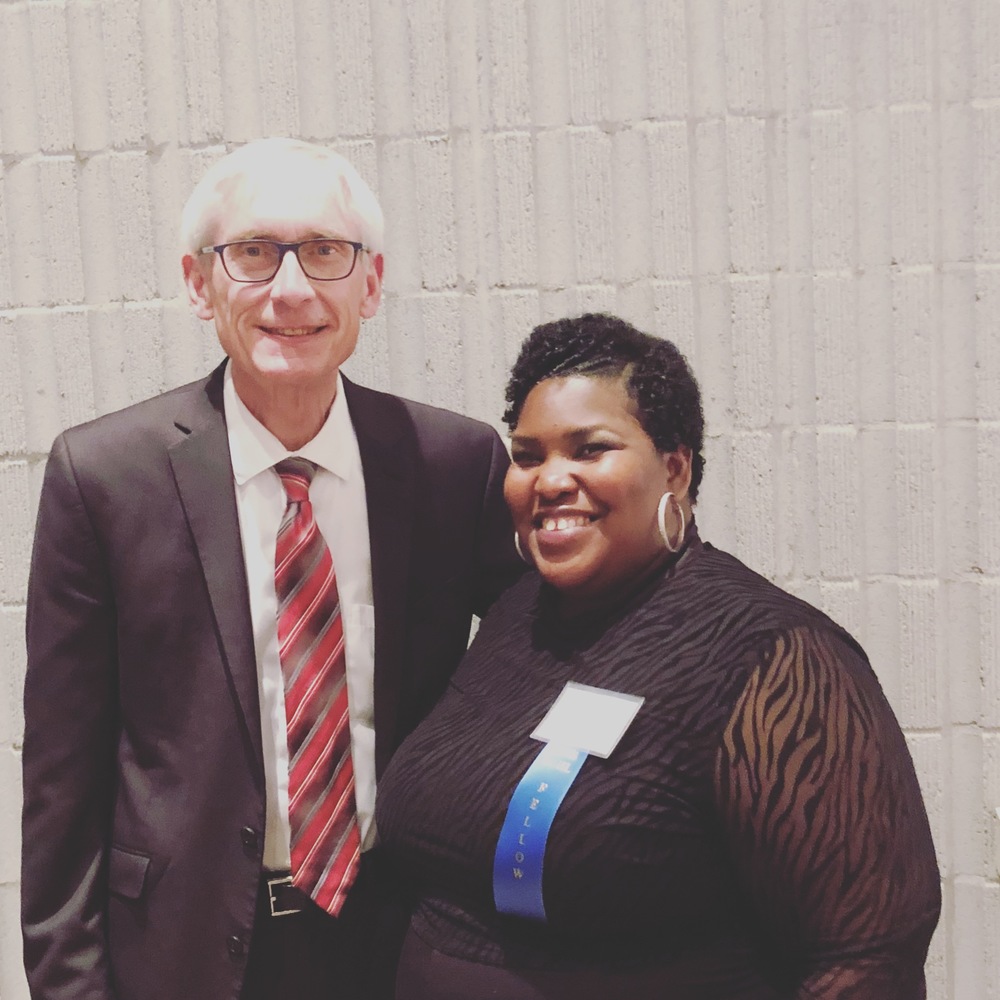 2018 Kohl Foundation Excellence in Teaching Award
WASD
Wednesday, May 16, 2018
May 10, 2018 - Fox Lake WI
Recently, Mrs. NaQuisha Mann received of one of the statewide 2018 Kohl Foundation Excellence in Teaching Awards. She joined other educators from various parts of the state to receive her recognition at a banquet earlier in April. We asked her to reflect on her past two years as a first-grade teacher at SAGES, Waupun Area School District's public charter school in Fox Lake. Here is what she told us.
"There are two important teachers in your life: Your favorite teacher and the one you didn't like at all. I want to be the person remembered for having a positive impact on a child's life," said Mrs. Mann.
Mrs. Mann has 15 years of teaching to her credit, with two of those years at Waupun Area School District's charter school, School for Agricultural and Environmental Studies (SAGES).
She explained that a few years ago, she was looking for a change, a place for her family, and a place where she could contribute. She found that place at SAGES.
Mrs. Mann said she knew that coming to a small town meant a big change for her. She left an administrative position to return to teaching; she left the urban schools of Milwaukee to teach in a rural community; and she left a school three times the size of SAGES, for the much smaller school SAGES represents.
"I have been more than welcomed here. It was a tremendous change, and I was welcomed by the families here. It's been great. I work with dynamic people starting with Tonya Olson, Waupun District Administrator, and Principal Mucklin. Both women provide great support. I would not have achieved this without the support of the whole staff," she added.
"SAGES is full of good things: A small town, with parent and community support, and a wonderful staff. This has ignited something different if me. Now, to be one of 100 teachers in the state of Wisconsin selected for this honor, I'm beyond humbled. The Lord saw it fit for me, whatever the reason, and I'm thankful for that," said Mann.
Mrs. Mann cites many efforts at SAGES that set it apart.
"We have great people here, and our State Report Card exceeds expectations. Not only do we get it done academically, the staff at SAGES has a unique way of inspiring love and respect for the earth. We infuse responsibility and a mindset about the future, and we teach children to become advocates for themselves and for the world," said Mrs. Mann.
She appreciates the professional opportunity that SAGES provides her, too. She described her approach to teaching as "teaching through teachable moments."
"I flow with my students. If they are interested in something, we go with it. I am responsible for my students knowing the content, but I also have the freedom to explore. It's not codified. At SAGES you roll up your sleeves, you allow students to be leaders," she said.
Mrs. Mann considered her teaching experiences in urban settings as a gift too, one that she draws upon to offer opportunities for children at SAGES now. With her experience in both urban and rural settings, she sees herself as a sort of conduit for students to connect with others who they might not have known otherwise. For example, she helped organize a visit from SAGES students to a group of students in an urban Milwaukee school. Through this connection, she took students to Milwaukee to participate in their Black History Month.
"All kids need to see different people do different things. I have worked in totally different places, and I know that different experiences help open our mindsets," she said.
Mrs. Mann is also serving on a standards-writing committee for the state of Wisconsin, which she views as another professional accomplishment.
"I'm blessed to do this work, and I'm honored. I am thankful that my work is recognized, but moreover, I know that the work of many people here makes the real difference. I'm inspired to keep going because of the work we all do here," said Mrs. Mann.
Thank you, Mrs. Mann, for all you do for the children of SAGES!