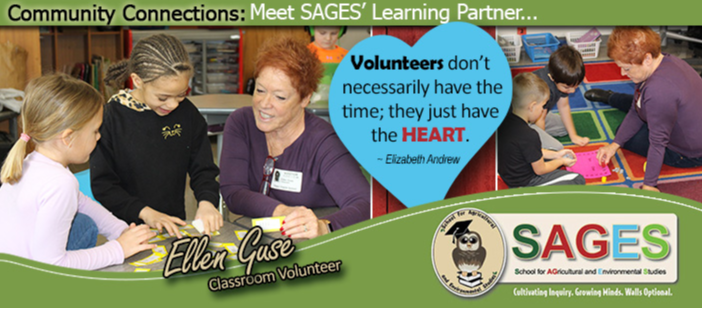 FEBRUARY 2020 LEARNING PARTNER
Meet SAGES' Learning Partner is a special monthly segment showcasing the valuable people, businesses, and groups who contribute to the success of our school. For February, we want to show some LOVE to a very special Classroom Volunteer, Ellen Guse!
Mrs. Guse is a retired educator with nearly 40 years working in special education / early childhood. She started her teaching career at the Cooperative Educational Service Agency (CESA) in Beaver Dam, then Oakfield, but spent most of her Early Childhood teaching days in the Mayville School District. Even after retirement, Ellen continued to provide support at Mayville within 4K, plus she volunteered in Mayville's Mentoring Program.
Mrs. Guse and her husband, Jim, moved to Fox Lake part-time five years ago and made this their permanent residence in 2017. A person who believes, "...the way to support schools is to volunteer…," Ellen travels to Madison once a week to help out at her grandson's elementary school. As luck would have it, Ellen's neighbor, Bob Bergmann — current SAGES' Governance Board member — shared stories about SAGES planting a seed of curiosity and a desire to assist a school right within her own community.
In fall 2019, Mrs. Guse completed Waupun Area School District Volunteer Forms and started volunteering at SAGES. She generously gives 2 hours of her time every Thursday afternoon assisting in the Kindergarten, 1st, and 2nd grade classrooms. Our LOVE for her and her admiration for SAGES are evident in sentiments shared. "The kids love her!," notes Mrs. Panzer. "She's awesome. She just pops in and helps right where she sees it's needed." On the flip side, Mrs. Guse expressed her joy and surprise at the "phenomenal experiences" learners at SAGES have like making pizzas from scratch using sauce made from school garden ingredients and the fact that items generally thrown away after a classroom Halloween party were instead put into a worm bin for composting at SAGES.
Recognizing the need and important role multi-generational interactions have for both adults and youth, Mrs. Guse has applied to be a mentor in the REACH One mentoring program. Plus, she recently put her name in to serve on the SAGES Governance Board. "[Volunteering at schools is] good for people in the community to see the extensive curriculum. School today is much different than when I was in school," shares Mrs. Guse.
Elizabeth Andrew is quoted as saying, "Volunteers don't necessarily have the time; they just have the HEART." Ellen - Thank you for making the time to share your LOVE for children and learning with the SAGES' staff and students. We're fortunate to have you partnering with us! Your involvement as a classroom volunteer, mentor, and future Governance Board member are priceless GIFTS.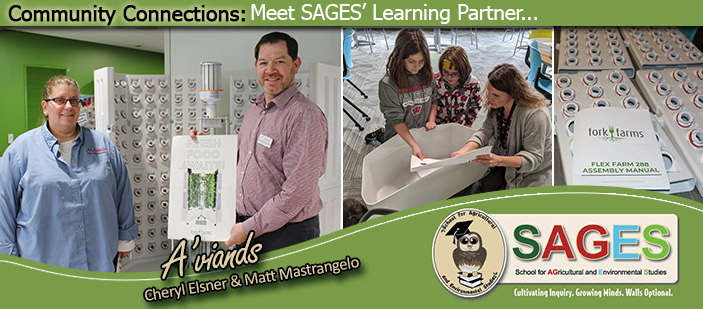 JANUARY 2020 LEARNING PARTNER
Meet SAGES' Learning Partner is a special monthly segment showcasing the valuable people, businesses, and groups who contribute to the success of our school. As we enter the New Year, we're excited to be embarking on a new "real world" learning opportunity with our district's Food Service Management company — A'viands!
SAGES was contacted in early-September 2019 by Gil Shaw, Fork Farms LLC of Appleton, Wisconsin about a gift for growing and learning. Mr. Shaw explained Fork Farms was working in partnership with A'viands to place a number of their Flex Farm hydroponic systems at A'viands contracted schools. Waupun Area School District was among the locations A'viands wanted to place a Flex Farm at no cost to the district. The idea was to have this innovative, self-contained system in a classroom where learners could interact with it and grow greens or herbs to be utilized in the food service.
Appreciative, yet cautious of this offer to acquire a Flex Farm 288, standing 6' tall, and capable of holding 288 plants and over 300 pounds of produce in a year, we paused taking time to consider various logistics that would accompany this gift. Where would it be located? What class(es) would be involved in managing, growing, and harvesting? How much time does it take to maintain? How much does it cost to operate? Energy needed to run? Many of our questions were quickly answered on Fork Farm's website "Frequently Asked Questions" page. Our research also included conversations with other schools already using Flex Farm systems, as well as, further dialogue with A'viands and Fork Farms.
Satisfied with our findings, during the October 28, 2019 WASD Business Meeting, SAGES officially informed the School Board of our interest and excitement of accepting such an amazing gift with endless "real world" learning potential. The board agreed and in December three large boxes arrived at the school. With guidance from our Agricultural Educator, Mrs. Hicken, SAGES' 5th grade learners enthusiastically took on the challenge of putting the Flex Farm together and are anxious to get "growing" in January!
A'viands prides themselves on being a scratch base company. "We begin every day from scratch," noted Matt Mastrangelo, A'viands District Manager for Wisconsin. He is passionate about the partnership with Fork Farms and integrating Nutrition Education into the food service for their clients, such as schools. In his vision, the Flex Farm will not only provide produce, but also serve as a "Field Trip" without leaving the school's building. With a warm smile, Mastrangelo shared, "I'm delighted to bring our fresh values into schools."
SAGES will be A'viands first K-12 building with a Flex Farm installment. To start, we'll be growing basil for A'viands to use to enhance the flavor and freshness of school district menu items without adding salt. Cheryl Elsner, WASD Food Service Director, is excited to integrate the fresh herbs into their recipes and continue building on A'viands use of local, student-grown produce. She already works with the High School Agriculture Department using produce like green onions and sunflower sprouts grown by ag students in the high school's greenhouses.
A'viands, THANK YOU for selecting SAGES for this unique learning opportunity through your gift of a Flex Farm hydroponic system. We look forward to "growing together" with you and Fork Farms!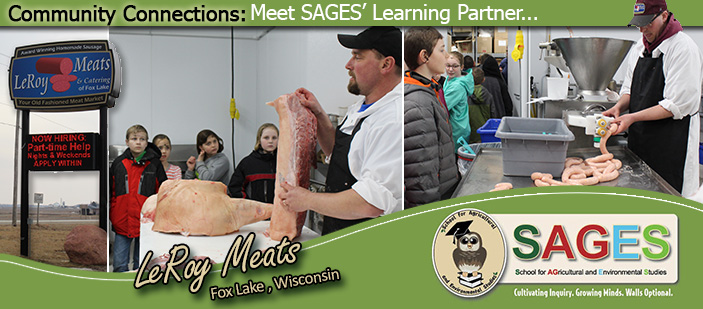 DECEMBER 2019 LEARNING PARTNER
Meet SAGES' Learning Partner is a special monthly segment showcasing the valuable people, businesses, and groups who contribute to the success of our school. For December, we're delighted to feature a local business with a strong commitment to community - Leroy Meats and Catering!
SAGES experienced this first hand in March 2017, when Mr. Randy Hurst participated with a booth for LeRoy Meats at SAGES' "Community Night" event. That was prior to this old-fashioned meat market breaking ground for their second store location in Fox Lake!
Their support for SAGES and the community has only grown since that time. Last year as a part of SAGES' Ag Day field study experiences, Randy Hurst and Steve Christian, without blinking an eye agreed to host SAGES' 4th, 5th, and 6th grade learners for a "behind-the-scenes" tour of their Fox Lake facilities. "They went above and beyond to ensure our learners understood all that is involved in providing their customers with safe, high quality sausages and cuts of meat," notes Mrs. Hicken, SAGES Ag Teacher. "LeRoy Meats was definitely a memorable and favorite part of our 2019 Ag Day for many!"
This fall, LeRoy Meats again generously opened their doors to SAGES' 4th grade learners to help them expand on their Wisconsin studies. Randy took time to explain more about "Something Special from Wisconsin™" (SSfW), a marketing program offered by the Wisconsin Department of Agriculture, Trade & Consumer Protection (DATCP) allowing "any business, no matter how big or how small... to use the Something Special from Wisconsin™ logo if at least 50 percent of the value of [their] product or service is attributable to Wisconsin ingredients, production or processing activities." Not only does LeRoy Meats participate in SSfW, but they proudly carry several Wisconsin-made products! Our 4th graders were amazed to find so many products carrying the distinctive SSfW logo throughout the meat market's store, plus our visit increased their interest in reading food labels more closely.
Also this fall, LeRoy Meats provided taco meat and bags of chips for a "Walking Taco" lunch during our annual 5th & 6th Grade Camp. This kind donation brought big smiles and satisfied bellies to our hungry campers! Their commitment to community doesn't stop there though. Last year and again beginning this December, LeRoy Meats has invited SAGES to "Deck the Halls" of their store with student artwork during the Holiday Season. We are honored to do so and appreciate the opportunity for our learners to have a public venue where their art can be showcased.
Thank you, LeRoy Meats (Scott Hurst, Randy Hurst, Steve Christian, and crew!) for your wonderful support of SAGES over the years and your commitment to the Fox Lake community. We are grateful for your "old-fashioned" hospitality and look forward to "meating" up again for future learning adventures!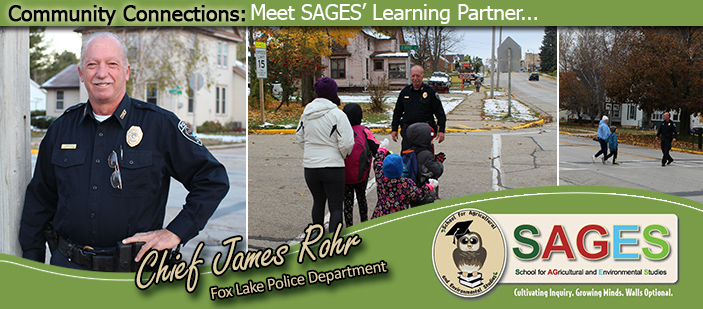 NOVEMBER 2019 LEARNING PARTNER
Meet SAGES' Learning Partner is a monthly segment showcasing the valuable people, businesses, and groups who contribute to the success of our school. For November, we'd like to feature a friendly Fox Lake police officer, Chief James Rohr!
Before and after school each weekday, Chief Rohr can be found at the busy corner of S. Depot and State Streets to ensure everyone crosses safely. He greets our learners and their families with a big smile and friendly conversation as he escorts them to the other side.
Behind the scenes, Chief Rohr also helps us develop and conduct practice drills for our School Safety plans. Plus, we know we can reach out to him and the Fox Lake Police Department to help us work through any issues that may arise.
Chief Rohr, thank you for the care and dedication you have for the safety of our community and SAGES' learners!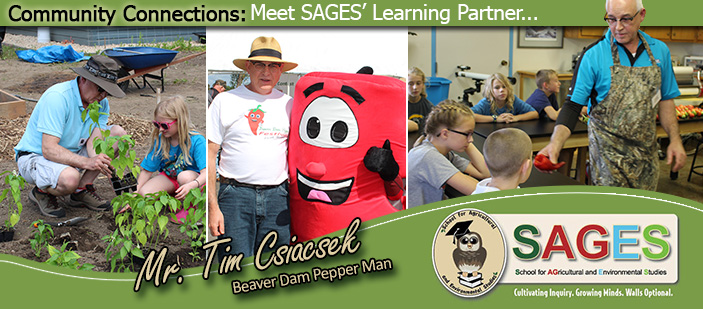 SEPTEMBER/OCTOBER 2019 LEARNING PARTNER
Meet SAGES' Learning Partner is a monthly segment showcasing the valuable people, businesses, and groups who contribute to the success of our school. For In October, we're featuring Mr. Tim Csiacsek — a man who introduced us to a very special heirloom pepper!
Mr. Csiascek, known by many as the "Beaver Dam Pepper Man," is passionate about peppers, but not just any pepper — the Beaver Dam Pepper! We first met this pepper expert in September 2016, when SAGES participated in the 3rd Annual "Beaver Dam Pepper Festival." Mr. Csiascek was staffing the "History" booth cutting ripe, red Beaver Dam Peppers into thin strips for tasting. As he did this, he was sharing everything pepper — how to cut the pepper to avoid heat from the ribs and seeds, recipe ideas, how this year's crop was looking. In talking with him further, we learned he had a personal connection to this Hungarian pepper. In 1921, his grandmother, Anna Csiacsek, at age 15 immigrated to Beaver Dam, Wisconsin. Among the few items she selected to bring with her for this long journey from Hungary was a bundle of pepper seeds.
That same fall we had met, Mr. Csiacsek agreed to come and talk to SAGES' 4th, 5th, and 6th graders and share his passion for peppers, as well as explain more about how this heirloom seed arrived in the US. Later that school year (spring 2017), Mr. Csiacsek let us know he wanted to donate a couple flats of Beaver Dam Pepper plants he had started from saved seed. After Memorial Day, those plants were put in SAGES' School Garden, plus two seedling plants were given to each learner in 4th grade to grow at home. Mr. Csiascek didn't simply provide the plants, he also worked with him employer to take some time off to come to SAGES' planting day and provide planting guidance. Among his different tips, he recommended putting two plants in each hole to allow them to support each other throughout the growing season. Beyond helping plant, he gave SAGES two scarecrows he made to "protect" the pepper crop.
From our first meeting through present, Mr. Csiacsek has continued to share his passion for Peppers with SAGES. In fall 2017, he provided saved Beaver Dam Pepper seeds for SAGES to bag up and sell at the Beaver Dam Pepper Festival. Also later that fall, he came back to help the former 4th graders turned 5th grade, take the Beaver Dam Peppers harvested from our school garden and turn them into "Stuffed Beaver Dam Peppers" perfect for freezing and eating on a winter day. Since then, supplying us with saved seeds, as well as a few flats of Beaver Dam Pepper plants for our 4th grade class, and taking time away from his workplace to assist on planting day seems to have become an annual tradition!
Mr. Csiacsek, thank you for sharing your passion for growing and enjoying the Beaver Dam Pepper with our learners. We're honored to carry on this special family tradition that started and continues by saving seeds!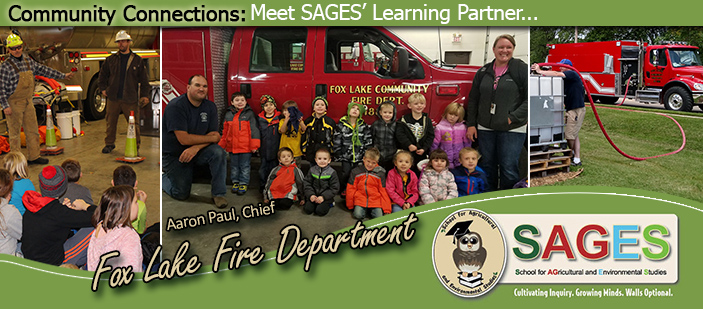 JULY/AUGUST 2019 LEARNING PARTNER
Meet SAGES' Learning Partner is a monthly segment showcasing the valuable people, businesses, and groups who contribute to the success of our school. For July and August 2019, we highlighted Fire Chief, Aaron Paul and the Fox Lake Fire Department!
Chief Paul and several others in the Fox Lake Fire Department have supported SAGES in a variety of ways over the years. In the summer months, they help us keep our Community Garden thriving by using their tanker truck to fill our large water bins at our garden site on the corner of Spring and Crocker Streets. They also have no objections to SAGES hosting our Craft Fair & Bake Sale in conjunction with their annual Classic Car Show held next door to school at Fireman's Park. (*A wonderful family event set for Saturday, July 27, 2019.)
In the fall, Chief Paul has opened the doors to the Fire House for many Field Study Trips by SAGES learners. Plus, this past winter, the Fire Department allowed Alliant Energy to house their training demo equipment at the Fire House for a few days following the fire fighters training night. This afforded our 4th, 5th, & 6th graders the chance to simply walk next door for a highly engaging educational presentation demonstrating how to stay safe around power lines and so much more!
Chief Paul, your willingness to entertain and assist SAGES with our special requests is so appreciated! Thank you, Chief Aaron Paul and the Fox Lake Fire Department!!!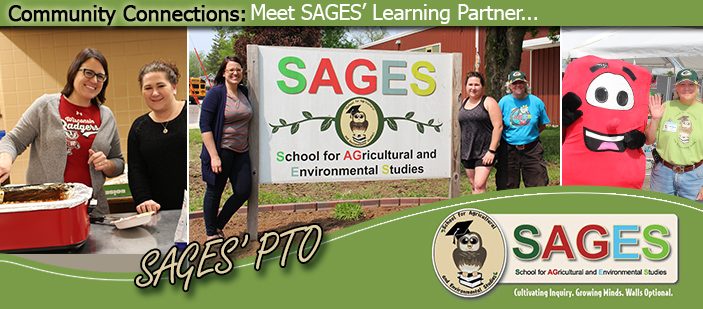 JUNE 2019 LEARNING PARTNER
Meet SAGES' Learning Partner is a monthly segment showcasing the valuable people, businesses, and groups who contribute to the success of our school. This month, we highlight a small group that makes a BIG impact — SAGES' Parent Teacher Organization (PTO)!
Just Friday, PTO planned and conducted a fun-filled "Field Day" afternoon for our K-6 learners that included: a bounce house, outdoor games and old-fashioned fun, plus a refreshing Popsicle treat! However, their efforts to support SAGES span across the entire school year and into the summer. You'll find PTO members lending a hand at school and community functions such as our Winter Concert Bake Sale and food stands at the Alto Fair, SAGES' July Craft Fair & Bake Sale, plus the Beaver Dam Pepper Festival. The funds raised by this amazing group benefit our staff, learners, and families in a variety of ways — they host our annual PTO/Student Council Winter Dance, provide monetary support for end-of-year field study trips, as well as Teacher Appreciation Week gifts.
SAGES' PTO, we are grateful to each of you for the time, energy, and effort you share… just as we believe "Little Kids CAN do BIG Things," you've confirmed a small group can make a BIG IMPACT! Thanks for the many ways you support SAGES!
----------------------------------------------------------------------------------------------------------------
*NOTE: The PTO is open to anyone who has an interest in supporting SAGES. Currently, Casey Siewert serves as PTO President, Becky Katzenberger is Treasurer, and other members include: Debbie Kolins, Kathy Jenswold, Walter Cowan, Bethany Castleberg, Becca Vree, Sheri Hicken, and Judy Stiteley.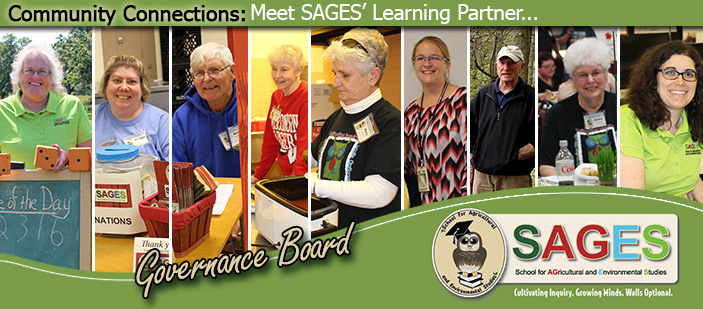 APRIL 2019 LEARNING PARTNER
Meet SAGES' Learning Partner is a special monthly segment showcasing the valuable people, businesses, and groups who contribute to the success of our school. This month we salute our SAGES' Governance Board!
As a charter school, SAGES is supported by the Waupun Area School District's Board of Education, as well as a Governance Board. Made up of nine volunteers, the SAGES' Governance Board meets a minimum of six times each school year. Beyond regular board meetings, Board Members also participate in SAGES' Committees including Long Range Planning, Marketing/Fundraising, and Executive. Governance Board Member terms are three years with elections held at the Governance Board's Annual Meeting. Parents/guardians of learners attending SAGES, including those who open enroll into the District, and the Governance Board members can vote for an open seat on the SAGES' Governance Board. This year's Annual Meeting is on Thursday, May 9th at 6:30 p.m. in the SAGES' Media Center. Join us!
Current SAGES' Governance Board members include: Kathy Jenswold (President), Karen Gibbs (Vice-president), Jessica Standke (Secretary), Robbi Shranz (Treasurer), Bob Bergmann, Ron Daane, Maggie Drewa, Mary Perkins, and Kathy Rydquist. Thank you, Governance Board, for the many "behind-the-scenes" ways you support SAGES. Our learning community continues to GROW stronger together!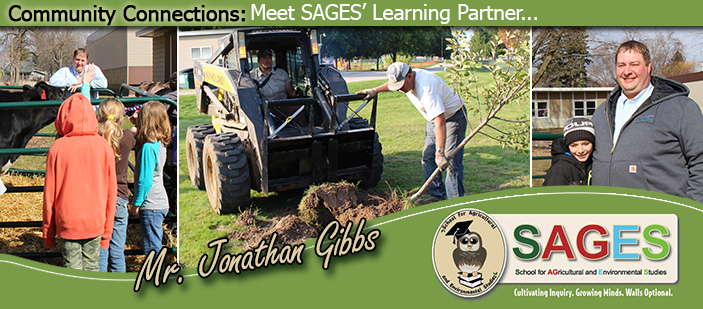 MARCH 2019 LEARNING PARTNER
March 14th is National Ag Day, so for this month's Meet SAGES' Learning Partner feature, we thought it appropriate to highlight a local farmer and strong SAGES' supporter — Jonathan Gibbs!
Mr. Gibbs farms with his dad just minutes away from SAGES, east on County Highway A. His farm's proximity to school, plus Jonathan's knowledge of and enthusiasm for agriculture have been a real asset. With little hesitation, he has helped us realize success on numerous occasions across the years. He has served as an Ag Day presenter multiple times, "harvested" samples of soybean plants and corn stalks from his fields for classroom lessons, and provided equipment that helped us get big jobs done more efficiently. In fact, his skidsteer has made a few different trips into town for anything from clearing sod at the Community Garden to transplanting our five apple trees.
Mr. Gibbs' support goes beyond his time and tools. Over the years, Jonathan and his wife, Karen, have also generously gifted items they noticed we could use, such as a Canon digital camera, Rock-the-Bike bicycle blender kit, science table, and Can-o-worms composter. He has participated in and secured sponsors for our SAGES Foundation Golf Outing, plus offers his "expert advice" at no charge to our Ag Teacher.
Mr. Gibbs, we appreciate what you do for agriculture on a daily basis and all the ways you've helped SAGES learners "grow!" No doubt you've helped "cultivate" future agriculturists! Thank you!
For additional background, read the below "Q&A" with Mr. Gibbs.
Q: You attended the University of Wisconsin-River Falls, what was your degree?

A: Bachelor of Science – Agronomy. I also have a Certified Crop Advisor certification (CCA) through the American Society of Agronomy




Q: How you would describe your farming operation?

A: 5th generation family farm. We have a diverse operation where we raise dairy beef, custom raise heifers, and grow cash grains, processing vegetables and forages. Our crops are used to either feed our livestock or feed and fuel America and the world. While I may be the primary decision maker for day to day decisions, our family farm truly is a family farm. My wife, Karen is involved in a support role and big picture decision making. She also keeps me grounded and reminds me to look at the positive aspects. I also look to my father, Dave Gibbs, and my uncle, John Mersch, for their guidance and experience that farming 41 years together provides.




Q: What current Boards & Volunteer efforts are you involved with?

A: Wisconsin Soybean Marketing Board (state soybean checkoff, farmer-led board) – Secretary/Treasurer and Church Council First Ev. Lutheran Church in Beaver Dam




Q: What other jobs have you held prior to being back on the farm full-time?

A: Summer internship with Hartung Brothers based in Madison, WI in summer 2000. Then, I went full-time upon college graduation. Worked full-time for 13 years covering Illinois (7 years) and Spring Green / Central Sands in Wisconsin (6 years). Duties were a processing vegetable (sweet corn, snap bean, canning pea) Field Representative.




Q: Anything else you want to share about you or your involvement with SAGES?

A: Besides my children attending SAGES, we are excited to lend a helping hand when needed. As a farmer, I am part of only 2% of the population which are classified as farmers. That means I have a lot of friends and neighbors who are not farmers. I am continually excited about SAGES, because Agriculture and the Environment are not just a class, they are a guiding theme every day. SAGES gives the opportunity to bring the ideas and questions that both farmers and non-farmers both have at a childhood age with the students, but also with the adult ages due to SAGES high level of community involvement.
FEBRUARY 2019 LEARNING PARTNER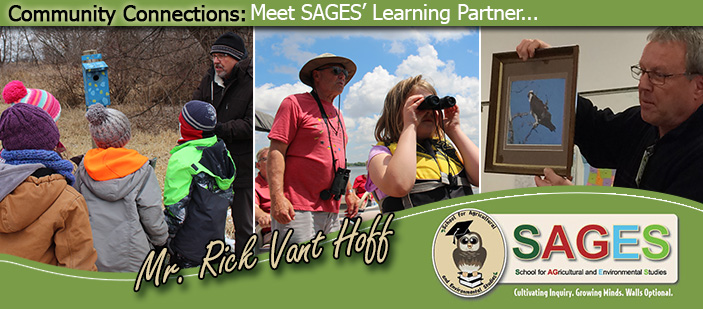 Meet SAGES' Learning Partner is a monthly segment showcasing the valuable people, businesses, and groups who contribute to the success of our school. This month, we're featuring Rick Vant Hoff, a local man whose passion is "for the birds!"
Mr. Vant Hoff has "soared" into SAGES across the years offering special all-school presentations on his "feathered friends" including talks on whooping cranes and the assortment of birds he has photographed among the trees of the School Forest. He's assisted with the installation of Bluebird Nestboxes on Earth Day. Last spring, he shared his birdwatching knowledge serving as a presenter during our annual Pontoon Classroom. Most recently, Mr. Vant Hoff met our 3rd graders at the School Forest to clean out the Bluebird Nestboxes and explore what was inside. Additionally, he assisted with taking the boxes down and plans to return to SAGES again in February to assist 3rd grade in making modifications to the nestboxes so they can more easily be opened for monitoring during the nesting season.
Actively involved in the community, Rick Vant Hoff serves in a wide-variety of volunteer roles including Marsh Haven Nature Center Board in Waupun, SSM Long Term Care Board in Fond du Lac, Church Health Services Board of Directors in Beaver Dam, plus he is a member of the Horicon Bird Club and volunteers for the DNR at Horicon Marsh. Despite his busy schedule, Mr. Vant Hoff is glad to help SAGES whenever and however he can. Beyond sharing his love of birds, Mr. Vant Hoff has also served as a "surrogate grandparent" for learners who didn't have someone able to attend "Grandparents Day" functions at SAGES.
Thank you, Rick, for your ongoing support of SAGES and the numerous ways you have helped SAGES' learners and staff "spread our wings!"
JANUARY 2019 LEARNING PARTNER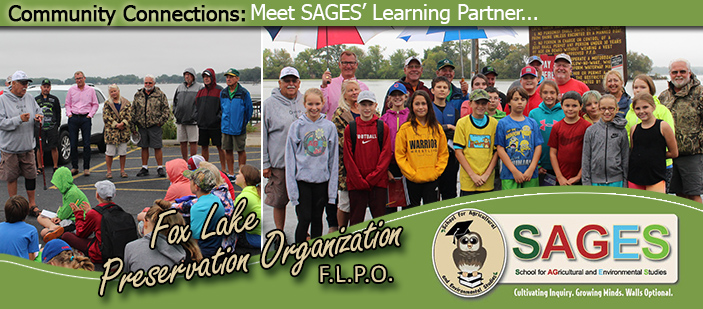 Meet SAGES' Learning Partner is a special monthly segment showcasing the valuable people, businesses, and groups who contribute to the success of our school. To kick-off 2019, we are featuring the Fox Lake Preservation Organization (FLPO)!
A 501 (C) 3 non-profit, FLPO's purpose is to "preserve and improve Fox Lake and its surroundings, and to enhance the water quality, fishery, boating safety, and aesthetic values of Fox Lake as a public recreational facility for today and future generations." (https://foxlakeflpo.org/)
Over the years, FLPO has been a strong supporter of our school providing access to authentic learning experiences involving our nearby natural resource -- the lake. Each fall, SAGES' older grades have been invited to assist with FLPO's annual Fall Fish Stocking, where learners pull on waders and bucket fish from yellow perch to muskellunge to walleye to northern pike into the lake. A hands-on learning experience like no other!
Each spring, SAGES conducts an all-school learning experience on Fox Lake -- our "Pontoon Classroom." This wouldn't be possible without FLPO members generously donating their pontoon boats, time to drive our learners to the various learning stations, plus their insights about the lake. Some FLPO members have served as learning station hosts and presenters, too! We're also grateful to have been included in FLPO's "Healthy Lakes" work, which has afforded our learners opportunities to better understand real-world environmental protection projects including shoreline plantings and "fish stick" installations.
FLPO - Thank you for your efforts to preserve and improve Fox Lake, plus involving SAGES' learners in valuing and caring for this local treasure along with you!
DECEMBER 2018 LEARNING PARTNER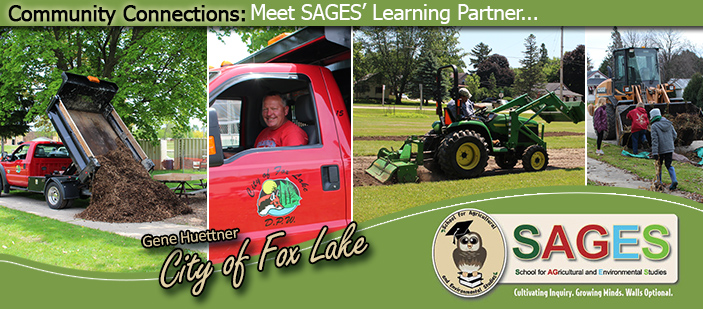 This month for our "Meet SAGES' Learning Partner," we happily highlight Gene Huettner and the City of Fox Lake!
Director of Public Works for the City of Fox Lake, Mr. Huettner and his crew at the City Garage have provided strong support to SAGES over the years. During winter 2013-14, when SAGES' 1st and 2nd graders designed an "Outdoor Classroom" for our schoolyard, Gene kindly transported and placed our 5 donated boulders for "classroom seating" one by one with the city's endloader. That spring, he also hauled wood chip mulch to our school so we could complete that outdoor learning space. The truckloads of mulch didn't stop there though. No matter what season we call, Gene is willing to help bring mulch for us to use in our garden projects, as well as at the School Forest. Summer 2018, after we had cut and cleared the sod for a new corn plot at our Community Garden, Gene and Chris helped us haul the sod away and prep the ground with their tractor-powered rototiller ﹘ tasks that would have taken us multiple trips and lots of time using our walk-behind tiller.
Mr. Huettner, your willingness to answer our calls and assist with "heavy-lifting" for our projects is "mulch" appreciated! Thank you, Gene and City of Fox Lake!!!
NOVEMBER LEARNING PARTNER
November 1st was Global Outdoor Classroom Day, so for this month's "Meet SAGES' Learning Partner" special monthly segment, we wish to spotlight Sandy Benton — Wisconsin Green Schools Network!
As WGSN's Director of School Services, Sandy is currently working along-side SAGES' staff to further enhance our school's approach to project-based learning as part of agricultural studies and to maximize our Field Study Experiences outside the traditional classroom setting and in local natural areas — our School Forest, Fox Lake, SAGES' Community Garden, Horicon Marsh, area agri-businesses.
When it comes to environmental education, project-based learning, and understanding how a charter school runs, Sandy brings a rich resume. She founded Fox River Academy (FRA), an environmental charter school, in 2005 with a colleague and currently serves as President of the FRA Governance Board. Her passion for teaching and learning is evident through the work she has done over the years with colleagues from across Wisconsin to create the WGSN. Sandy has served as a coach and consultant to develop and implement rigorous place-based and inquiry-based learning experiences in numerous schools including SAGES!
Beyond her current collaborations with our teachers, Sandy has also shared her enthusiasm and environmental education expertise with our learners. Last spring, Sandy served as a presenter during SAGES' annual "Pontoon Classroom." At her stop on Fox Lake, she conducted a "Water Quality Indicators" learning station, where our K-6 learners got to dip net and complete macroinvertebrate explorations. A favorite station by many! [Curious about SAGES' Pontoon Classroom 2018? Want to see Sandy in action? View a short Pontoon Classroom summary video onSAGES' Facebook page.]
Sandy's work and that of WGSN is innovative and much appreciated by SAGES and many others. In fact, Wisconsin Green Schools Network was among 8 "Standing Up for Rural Schools" award recipients recognized during the 10th Annual Wisconsin Rural Schools Alliance Conference this week, Oct. 29-30, in Wisconsin Dells. [To learn more, read article:Eight 'Standing Up for Rural Wisconsin' recipients named.]
Congratulations, WGSN! SAGES is so fortunate to be learning and working with you in the F.I.E.L.D. — Fostering Inquiry and Empowering Learners through Discovery!
Meet SAGES' Learning Partner is a special monthly segment showcasing the valuable people, businesses, and groups who contribute to the success of our school. In October, we're featured Renee Wahlen!
Mrs. Wahlen is Director at Marsh Haven Nature Center, which is located on highway 49 at the north end of the Horicon Marsh. From organizing yearly events and conducting educational programming to helping in the visitors center and caring for the critters, Mrs. Wahlen oversees all the day-to-day operations of this non-profit, volunteer-supported nature center. She earned her master's degree from Naropa University - Boulder, CO in Transpersonal Psychology with a concentration in ecopsychology, which looks at human and nature relationships. Concerned about the disconnect kids have with nature and what that might mean for the future, Mrs. Wahlen's favorite part of her work is sharing a message of care, concern, and education for all animals, including local species. She states, "It's an honor and privilege to work with our Animal Ambassadors!"
SAGES appreciates Mrs. Wahlen sharing her vast knowledge and love of nature with our learners through special presentations at school and also making our annual 4th-6th Grade SAGES' Camp possible at Marsh Haven, where she leads several inspiring learning stations!

Thank you, Mrs. Wahlen, for helping us gain a greater appreciation for the amazing animals and fascinating natural features found right here in our own backyard. You're programs are always a HOO-T!
SEPTEMBER LEARNING PARTNER
"Meet SAGES' Learning Partner" is a special monthly segment showcasing the valuable people, businesses, and groups who contribute to the success of our school. For September, we're featuring SAGES Foundation!
A 501 (C) 3 non-profit, SAGES Foundation was created for the purpose of supporting the School for Agricultural and Environmental Studies (SAGES) to strive for a high quality education for all learners, kindergarten through 6th grade. All Foundation members are unpaid volunteers and currently include: Dale Paul, Cody Eilbes, Melinda Opalewski, Jeff Hicken, and Kathy Paul.
Though a small group, their efforts to fundraise and seek sponsorship and donations are exponential! Over the past six years, the Foundation provided $38,997.23 for purchases of requested technology, learning tools, staff professional development training, and more that went above the school district's budget. Beyond monetary gifts, SAGES' learners also benefit from a vacant lot donated to the Foundation for the school's use. That plot of land on the corner of State and Crocker Streets in Fox Lake is now home to "Annie's Garden: A Community Garden Project Created & Maintained by SAGES' Learners."
The Foundation's main fundraising events each year include the "Friends of SAGES Banquet" in early-April, plus their annual "Craft Fair & Bake Sale" in July and "Golf Outing" — held recently on Saturday, August 24! (View snapshots from the day here - https://video214.com/play/7g0HfsWflteJFW8a1Ng2tA/s/dark.)
Thanks to the Foundation (and those who have donated to this organization) for your help in sustaining SAGES through financial gifts you've secured!
Meet SAGES' Learning Partner is a special monthly segment showcasing the valuable people, businesses, and groups who contribute to the success of our school. This month, we're featuring our friends at Ergo Bank!
Ergo Bank, formerly Farmers State Bank, is a strong supporter and participant at SAGES' events like our annual Golf Outing, as well as generous donors. In April 2018, Ergo Bank presented SAGES Foundation with a $5,000 donation and the commitment to continue that financial gift each year for five years.
Thank you, Kyle, Tim, and the crew at Ergo Bank Fox Lake, for your continued support of SAGES. Learning Partners like you help us maintain our project-based approach to learning, which yields so many positive "dividends" for our learners and the community!
Learn more about Ergo Bank at ergobank.com.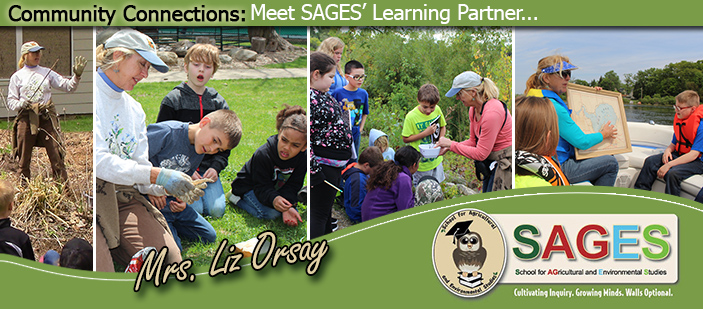 Rachel Carson is quoted as saying, "If a child is to keep alive his inborn sense of wonder, he needs the companionship of at least one adult who can share it, rediscovering with him the joy, excitement, and mystery of the world we live in." Our "Meet SAGES' Learning Partner" special monthly segment for July features an outdoor and environmental enthusiast, Mrs. Liz Orsay, who has been one such adult for SAGES!
Prior to retirement, Liz and her husband, Chuck, lived and worked in the Chicago region. Liz is a physician and served as an Associate Professor of Emergency Medicine at the University of Illinois at Chicago. Her work included teaching and research in addition to clinical duties in the emergency room. In 1995, Liz and Chuck bought a cottage on Fox Lake, which became their "getaway" for weekends and summers throughout the time their children were growing up. When Liz retired, she was vice-chair of the Emergency Medicine Department. Having always enjoyed their time at Fox Lake, while working and raising their family, Chuck and Liz chose to spend their summers in Fox Lake after retirement. The rest of the year, they can be found in southwest Florida, where Liz spent her early childhood and completed her post-graduate training, as well as where Chuck's parents retired.
Not shy about volunteering, Liz and Chuck are active in an array of community organizations and efforts here and in Florida. Both are on the board of the "Friends of Horicon National Wildlife Refuge." As such, they've been heavily involved in many projects the "Friends" have undertaken including maintaining the native plant demonstration gardens, writing a grant for, developing, and maintaining the "Sense of Wonder Discovery Trail" at the Refuge's Headquarters, along with working diligently to control invasive plant species like buckthorn, garlic mustard, and wild parsnip. Beyond that, they're also involved in the Fox Lake Preservation Organization (FLPO) and the Inland Lake District working on projects to improve the water quality of Fox Lake. In addition to working on their Natural Resource Committee, Liz planted and helps maintain the demonstration buffer zone and rain gardens at Town Park on Blackhawk Trail. In Florida, Liz is co-chair of their development's Landscape Committee, a 65-acre community 3 blocks from the Gulf of Mexico. On this team, she, the co-chair, and committee have worked tirelessly to introduce environmentally responsible landscaping practices and wildlife friendly plantings in an effort to be better stewards of the land while maintaining the aesthetics.
Life-long learners and teachers, Liz and Chuck recently attended and became certified as UW-Extension Master Naturalists, a state-wide program offered at various times and locations each year. Plus, they feel fortunate to have access to the University of Florida Extension program to guide their practices through the "Florida Friendly" landscaping program.
SAGES is grateful to Liz and Chuck for their willingness to share their knowledge, enthusiasm, and expertise in all things environmental! Liz has helped spark a "sense of wonder" within our 2nd graders and their teachers through her classroom Rain Garden presentations, as well as conducting special spring clean-up and planting days outdoors in the Rain Garden. On summer days, she can also be found, of her own initiative, weeding in the SAGES' Rain Garden to ensure it is well-maintained and thriving. In spring 2017, SAGES' 5th graders gained the unique opportunity to understand "Citizen Science" in action as Liz coordinated the experience of shadowing "Bluebird House Nestbox Monitoring" at Horicon National Wildlife Refuge. In fall 2017, she shared her passion for phenology and making observations and notes about nature during a learning station hosted for grades 4-6 at Clausen Park, along Fox Lake. Over the past six years, Liz and Chuck have also been loyal volunteers driving boat and conducting learning stations for SAGES' annual "Pontoon Classroom."
Thank you, Liz and Chuck, for being two adults who share your time, resources, and enthusiasm for nature to ensure "A Sense of Wonder" is being instilled within the learners and educators at SAGES! These future stewards of our world are lucky to have you in their lives.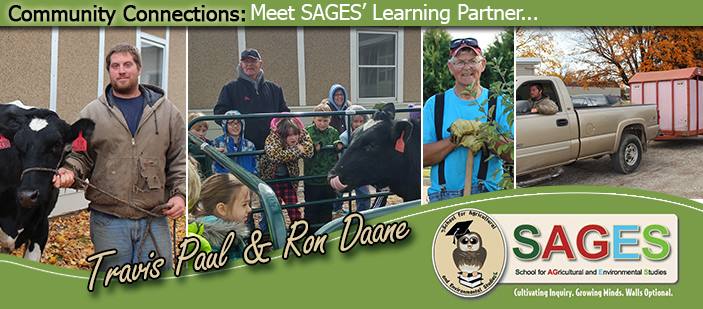 June is National Dairy Month, so for this month's "Meet SAGES' Learning Partner" special monthly segment, we salute two dairy farmers, Travis Paul and Ron Daane!
Travis and Ron have provided support for SAGES in numerous ways since the school opened in 2012... Travis Paul operates D&T Dairy in Fox Lake, which is home to SAGES' "school" cow and heifer, Noel and Nellie. Visits from Noel and Nellie to SAGES, made possible by Travis trailering his animals to our school for learning events, provide our 4K-6 learners with a direct connection to the state's Dairy Industry and have increased their knowledge of animal science. Ron Danne works with his family on Daane Dairy in Brandon. Ron is a member of SAGES' Governance Board, has hosted a "Waupun Area FFA Day on the Farm" at their farm, and has shared his knowledge of Dairy Farming in a variety of ways at SAGES across the years. From serving as a learning station presenter when Noel and Nellie visit to helping students take soil samples in our gardens or transplanting our apple trees, Ron is a SAGES' supporter we can call on to help out however and whenever we need him.

Thank you, Travis and Ron, for being such "Moo-velous" dairymen. We are "udderly" delighted to partner with you!
If you wish to partner with SAGES, email Sheri Hicken at shicken@waupun.k12.wi.us.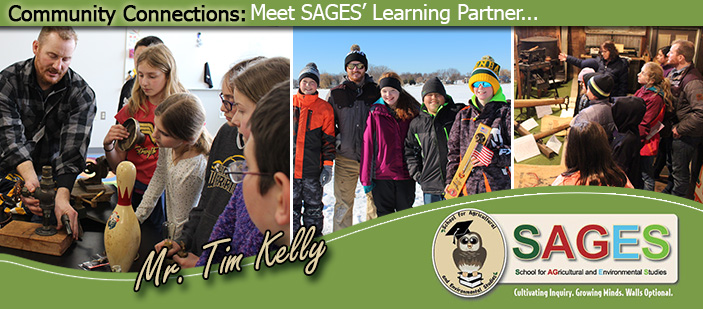 Tim Kelly is a parent of a SAGES' 5th grader, who has lent a hand on numerous occasions. Along with chaperoning on a few different Field Study Trips, Mr. Kelly setup and conducted an "Ice Fishing" Learning Station on Fox Lake during our 2018 SAGES' Winter Olympics and served as a Group Leader for our all-day Earth Day event in April. Plus, for the past two years he has helped his daughter's class design and build an upcycled lamp to donate to the "Friends of SAGES Banquet" Live Auction.
Mr. Kelly, we appreciate you sharing your time and talent with us. You can definitely "light up" SAGES' learning events. Thank you!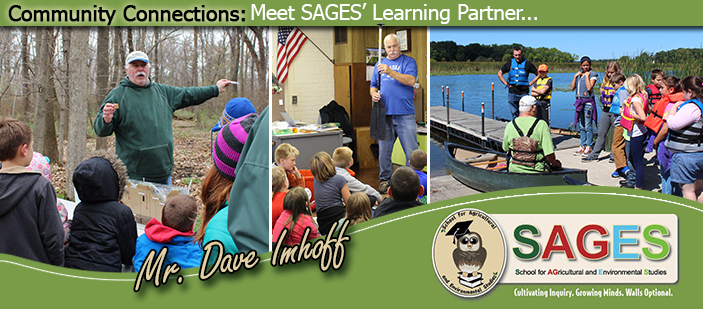 segment showcasing the valuable people, businesses, and groups who contribute to the success of our school.
This month, we salute Dave Imhoff! ---- Mr. Imhoff is a retired educator who began his teaching career in 1976. He came to Waupun Area School District in 1983, where he taught a total of 29 years -- one year in middle school science and the rest in 5th grade. He retired in 2011, but came out of retirement to teach at SAGES in 2012-2013. Beyond teaching 5th/6th grade in year one, Dave has continued supporting SAGES over the years as a volunteer. He is currently a member of our Outdoor Learning Committee helping plan learning activities that utilize natural spaces in our area. From planting trees and identifying spring ephemerals at the school forest to teaching canoeing basics on Fox Lake or conducting Native American naming and beading during SAGES' Camp, among several other activities, he has shared his expertise and passion for nature and environmental education in numerous ways.
Mr. Imhoff, you're a "tree-mendous" asset to SAGES. Thank you!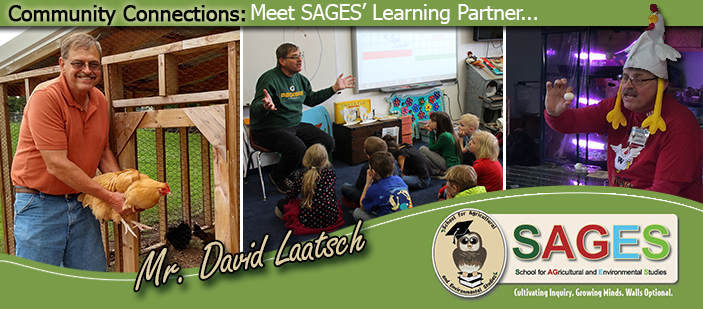 Introducing... "Meet SAGES' Learning Partner" --- a NEW monthly segment showcasing the valuable people, businesses, and groups who contribute to the success of our school.
David Laatsch, a.k.a., the "Chicken Man," is a retired H.S. Agriculture Instructor, UW-Extension agent, and lifelong Poultry Farmer. Since SAGES began, Mr. Laatsch has shared his agricultural knowledge and enthusiasm for chickens in numerous ways! In 2014, he mentored our student "chicken team" helping plan and build SAGES' chicken coop and generously loans chickens from his flock each fall/spring allowing learners to experience animal science & responsibility first-hand. He's also provided eggs to incubate and served as a presenter at several SAGES' learning events.
Thank you, Mr. Laatsch, for being an "egg-cellent" community learning partner!
OTHER VALUABLE SUPPORTERS OF SAGES
Grand River Turkey Club, long-time supporters of SAGES and environmental education. In April 2018, they also committed to providing a financial gift of $500 each year for five years.
Randy Stampfl, Dodge County forester, taught our Middle School students how to calculate basal area of trees in our forest, and explained that carefully selected harvests are part of maintaining a healthy sustainable forest.
Sena DeJesus, employee at Marsh Haven Nature Center, taught us about how Native American people gathered and prepared their food. She also taught Native American proverbs from Wisconsin tribes. She was a great help to SAGES camp.
Peter Hartzheim, City Council Alderman for Fox Lake, helped two 8th grade students from SAGES work toward creating a community garden. Peter was intrigued with their project, so he donated his time to help the students by tilling the plot to get the garden prepared.
Kelly Thomas and Andrew Aelesen, from the Wisconsin Rural Water Association (WRWA) came to our school to inform the students about groundwater, how fertilizer and chemicals affect underground aquifers, and taught us about different kinds of aquifers. They handed out their magazine, and a water bottle for each student.
Raymond Durr, a Dodge County Master Gardener, helped two SAGES eighth graders plan a community garden. Raymond helped them mark off their lot and fill out a grant. He donated his time, and helped make their dream a reality.
Jonathan & Karen Gibbs have donated their time and also generously donated the school camera. Karen's dad came and talked to the staff about certain subjects.
Doug Plier, Dodge County Attorney, taught students how to play chess, and he volunteered his time at camp to teach us about space. He took a small group of students to a chess tournament where they won first place.
Ron Danne, a local farmer, helped the students take soil samples during a recent AG day event, and helped the students learn that their soil had too much phosphorus. He told them that they need to put some other materials on the gardens, in order to lower the level. He has also help present about Noel, our school heifer.
Andy Glewen, a local excavation company owner, has donated his time to make a level surface for us to build a chicken coop and donated the screens.
Carlton Schley, a local farmer, has been a huge volunteer for SAGES. He has moved mulch into the school forest, so that the students can haul more mulch in the woods. If you call Mr. Schley, and ask him to do something, he's very willing to help. He has been helping with the school forest since day one.
Mac's BBQ has donated their time to cook and gave a variety of meats to SAGES. He conducted a "Meat Raffle Board" for a Fundraiser to Benefit at SAGES. Also, he has provided the meat cost for the SAGES booth at Beaver Dam Pepper Festival.
Claudine Lehman works with Wisconsin Women for Agriculture. She has donated her time and brought snacks for the students, and meals for presenters during the SAGES AG day.
Bill Bruins talked about his role on the DNR board; is WASD School Board President and supports SAGES in many ways by attending events.
Brad Ruenger, the Fox Lake Utility Operator, took the middle school students at SAGES on a trip through the water facilities in Fox Lake. He explained many of the problems caused in the Fox Lake aquifers, and gave the students a better overview of water management.
Rick Van Hoff showed a bird presentation to the SAGES students. He was taking pictures of birds at the school forest, and he came to talk with SAGES about whooping cranes and "Operation Migration", which is an operation to help whooping cranes migrate. He also serves as a fill-in grand for students who don't have a family member come on Grandparent's Day.
Geno Huettner, a Fox Lake resident, helped deliver 5 boulders for the SAGES Outdoor Classroom. He has helped create a loved working space, and all of the students enjoy the addition to the school grounds.
Diane Kitchen and Marcy Sagl runs a local organization that lets students read to a dog. Thanks letting SAGES kids read to your dogs and Improved many kids reading levels. All the kids Loved the Dogs, and many times seeing the dogs made many of the students days.
Fox Lake Preservation Organization (2015) - Let the 7th and 8th grade students release 1,500 perch by the town park and then we released 250 musky and 500 northern pike. And maybe next year the 7th and 8th graders get to do it again next year but maybe even walleye. So thank you Fox Lake Preservation Organization.
Brenda Gudex, Fond du Lac Agriculture Council, Agriculture Ambassador, comes each year to present ag topics.