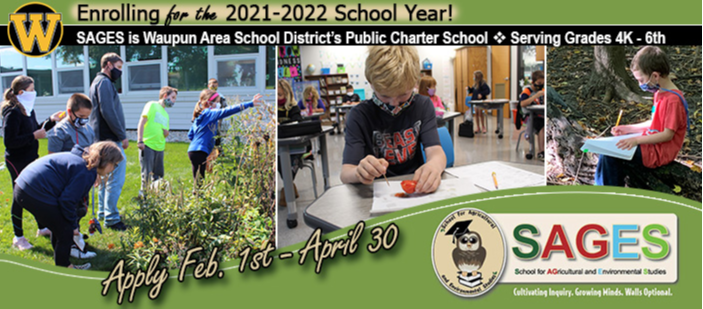 THANK YOU FOR YOUR INTEREST IN THE SCHOOL FOR AGRICULTURAL & ENVIRONMENTAL STUDIES (SAGES)!
We are Waupun Area School District's (WASD's) public Charter School for learners entering five-year-old kindergarten through grade 6. Plus, SAGES is a site for the WASD's 4K program.
To apply for SAGES Charter School, follow the steps below.
Or, click here to find out more about the District's 4K program.
SAGES ADMISSION PROCEDURE
Fill out a Student Application Form for SAGES Charter School.

Student Application Forms are available online or can be picked up at any Waupun Area School District building.

To download a Student Application Form, click here

To download a Spanish Student Application form, click here

Submit Student Applications to SAGES' school office at 200 S. Depot Street in Fox Lake, Wisconsin.

Completed applications for the 21/22 school year will start being accepted on Monday, February 1, 2021 at 8:00 a.m.

During the application processing...

Previous school records of applicant will be reviewed to determine if SAGES' programming can meet your child's needs.

SAGES will determine its enrollment numbers and if there is space available for the upcoming year.
SAGES ANNUAL RE-ENROLLMENT INFORMATION/PROCEDURE
To ensure your child's spot for next year at SAGES and to help us know our enrollment capacity for accepting new students, we ask families of current students to:
Complete the Letter of Intent Form by February 19, 2021 indicating if your child(ren) will be returning to SAGES or leaving to attend another school.
*Note: Failure to complete and return the Letter of Intent Form may result in needing to re-apply to SAGES.