EDIT MAIN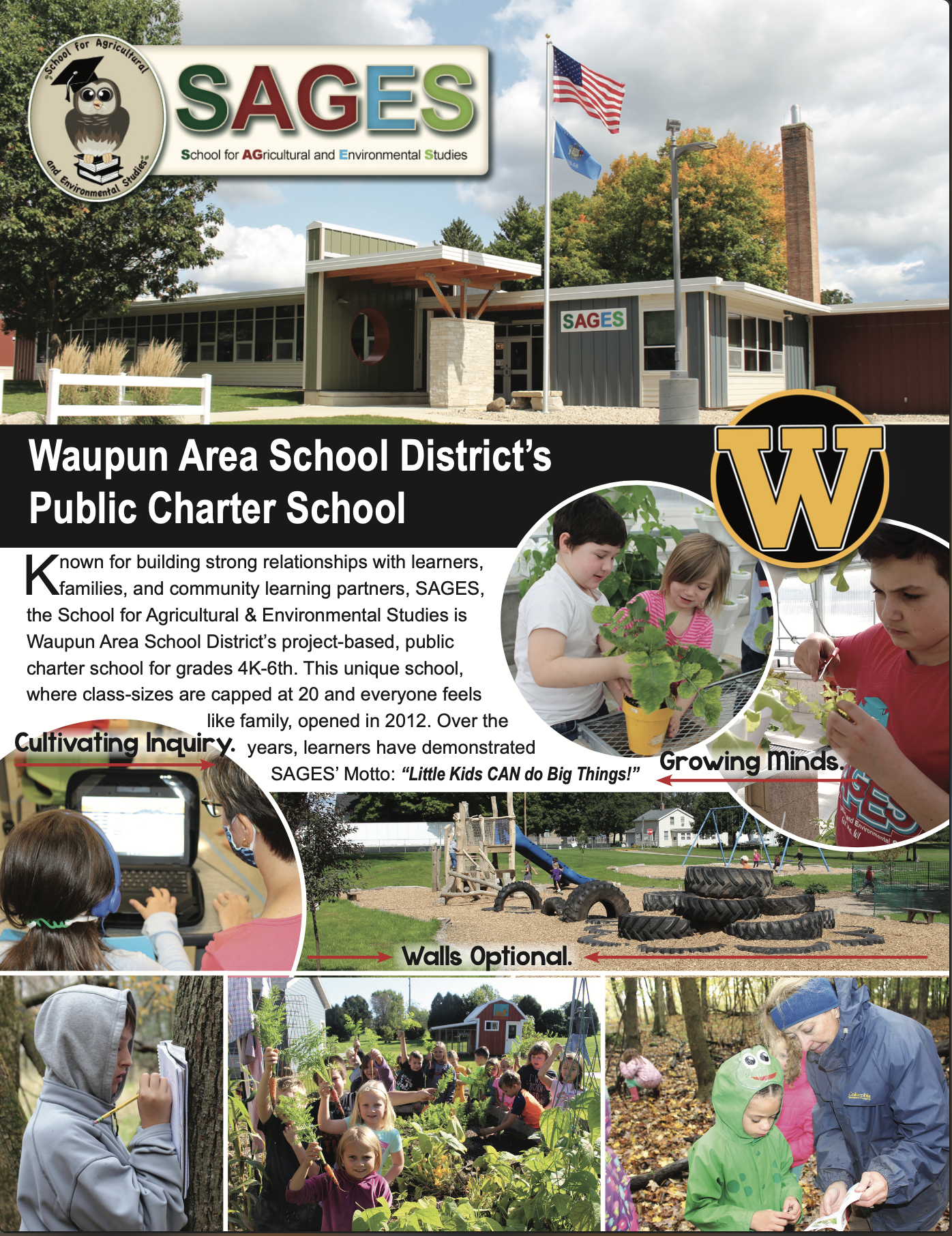 SAGES is...
Waupun Area School District's 4K – 6 Charter School.
Class size: 20 students per class
Staff: Approximately 25 full- or part-time staff serving in teacher, specialist, or support staff roles to meet the individual needs of students.
Enrollment: 126 students (2017-2018)
Located in Fox Lake, Wisconsin, SAGES is a charter school offering four-year-old kindergarten through grade 6. The school is close to home for Fox Lake families, and as a charter school, its enrollment is open to all families from Fox Lake, Waupun, and the surrounding communities.
---
Why Choose SAGES?
From building race cars out of tomatoes and cucumbers to working in the sunflower garden, SAGES strives to integrate the bounties of our school and community gardens and natural resources into daily lessons and projects. Imagine conducting field studies that the school forest and Fox Lake while still building foundational literacy and mathematical skills. If such a learning experience appeals to your child, then SAGES is the place for you! It is the best of all worlds: hands-on learning for authentic purposes blended with foundational instruction. Students at SAGES study hard, work hard, and see big results inside and outside the traditional classroom.
Cultivating Inquiry:
Purposeful, hands-on teaching and learning. SAGES strives to foster an environment and programming that crafts responsible, productive citizens with a local and global perspective, a passion for learning, and an appreciation for world environments and natural resources. Using inquiry, hands-on discovery, and project-based learning, students learn English Language Arts, math, science, social studies, music and art, set in the context of agricultural and environmental sciences.
Growing Minds:
The difference is our approach. SAGES has an agricultural and environmental science infused curriculum with an emphasis on project-based learning. Students who attend SAGES will have the opportunities to partner with community members and businesses as well as utilize the many outdoor spaces available to SAGES.
Walls Optional: Offering indoor and outdoor learning facilities.
New Research Center for Agricultural and Environmental Science;
New teaching kitchen and greenhouse;
Operating chicken coop and visits from our "school" cow and calf, Noel and Nellie;
Outdoor resources include a school garden, 48-acre school forest, Fox Lake, and Horicon Marsh
---