EDIT MAIN
Hello,
My name is Steve Lenz and I am Principal of the Waupun Area Junior/Senior High School. After 20+ years of teaching in the Social Studies Department (I was also Athletic Director for 4 years), 3 years as Dean of Students and 3 years as Assistant Principal, I accepted the role of Principal in July 2016.
Our philosophy of #team, #family and #begoodtoeachother will hopefully lead us to a building that fosters all students and staff wanting to achieve at their best - Believing is the First Step in Achieving! Waupun Area Junior/Senior High School believes the 3 R's (Rigor, Relevance and Relationships) will encourage students to think and write critically, problem solve and be creative while engaging in lessons developed by our dedicated staff in our Academy courses that will prepare them for the next step in their lives. Whether it be at a tech school, 4-year college, the military or in the "real world," we will strive to ensure our students are College/Career ready.
A life-long resident of Waupun (Class of 1982), I married my wife Lisa in 1991 and we have four children: Max (Class of 2012,), Sam (Class of 2013), Jak (Class of 2018), and Grace (Class of 2020). I enjoy spending time with my family, attending sporting events, camping, and hunting.
I am excited about the direction our school is going and the many opportunities our students have to help prepare them for their future. If you have any questions, comments, concerns or suggestions, please contact me if you need more information.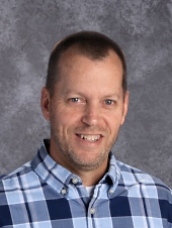 Thank you,
Steve Lenz
Jr/Sr. High School Principal
(920) 324-5591 ext.2804
---
Bachelor of Science degree from UW-Stevens Point (1988)

Broadfield Social Studies (History emphasis)
Psychology

Master of Arts degree from Marian University (2006)
Education Administration degree from Concordia University Wisconsin (2015)
My Teaching Experience:
EBD Teacher (1990-91)
Jr. High Social Studies Teacher (1991-92)
Sr. High Social Studies Teacher (1992-2010)
Assistant Activities Director (2000-01)
Athletic Director (2001-2005)