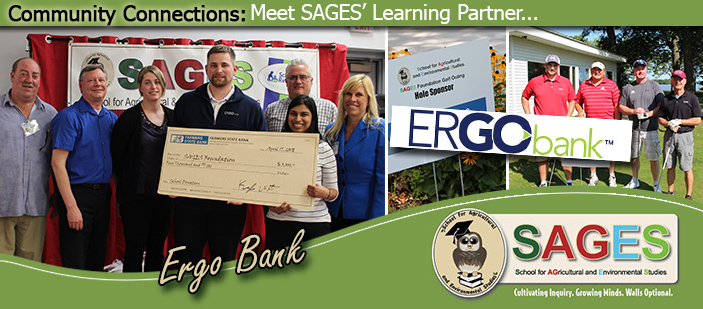 SAGES' is proud to recognize Ergo Bank as our featured "Learning Partner" for August!
Sheri Hicken
Tuesday, July 31, 2018
Meet SAGES' Learning Partner is a special monthly segment showcasing the valuable people, businesses, and groups who contribute to the success of our school. This month, we're featuring our friends at Ergo Bank!
Ergo Bank, formerly Farmers State Bank, is a strong supporter and participant at SAGES' events like our annual Golf Outing, as well as generous donors. In April 2018, Ergo Bank presented SAGES Foundation with a $5,000 donation and the commitment to continue that financial gift each year for five years.
Thank you, Kyle, Tim, and the crew at Ergo Bank Fox Lake, for your continued support of SAGES. Learning Partners like you help us maintain our project-based approach to learning, which yields so many positive "dividends" for our learners and the community!
Learn more about Ergo Bank at ergobank.com.