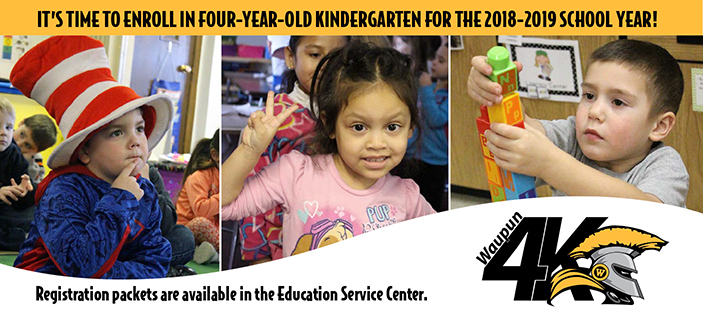 4K Registration is still open for 2018-2019 School Year
WASD
Thursday, May 17, 2018
WASD offers community-based programs, meaning we collaborate with community partners to provide multiple locations for programs that fits families needs for daycare, transportation, etc., yet we still deliver a consistent curriculum. All teachers have four-year college degrees in early childhood and kindergarten and are highly qualified to work with preschool children. Here's how to learn more.
Enrollment in the 4K programs began February 1, 2018. You may go to the website and download the materials. Then, take the completed materials with proof of residency to Linda Meagher, Administrative Assistant, WASD Education Service Center 950 Wilcox Street, Waupun.
Need more information?
Contact Linda Meager at lmeagher@waupun.k12.wi.us or 920-324-9341.

Families who do not live in the district, but would like to participate in the Waupun Public Schools through open enrollment should follow the open enrollment guidelines, also available on the website.