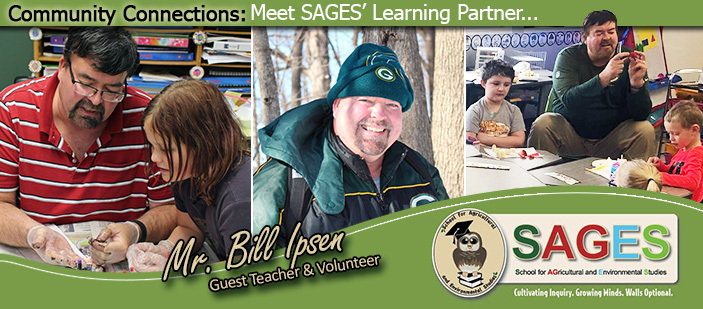 March Learning Partner is "Hometown Hero"
Sheri Hicken
Saturday, February 29, 2020
Meet SAGES' Learning Partner is a special monthly segment showcasing the valuable people, businesses, and groups who contribute to the success of our school. This month we recognize Mr. Bill Ipsen — a guest teacher and volunteer who feels "right at home" when he enters SAGES!
Bill grew up in Fox Lake and attended Fox Lake Elementary as a young man. Graduating from UW-Lacrosse in 1982, Mr. Ipsen taught full-time for 30 years — one year in the Cambria-Friesland School District and the remaining 29 years in the Waupun Area School District (WASD) — before retiring in 2015. During his tenure with WASD, he taught 23 years at Fox Lake Elementary, four years at Meadow View Primary, and two years at Rock River Intermediate Schools, as well as holding different coaching roles with fifth & sixth grade intramurals, boys football, boys basketball, and girls basketball. Mr. Ipsen also enjoyed teaching a summer school cooking class for 27 years. Since his retirement, he has served as a Guest Teacher covering WASD classrooms in both Waupun and Fox Lake.
Like many, Mr. Ipsen was extremely sad when Fox Lake Elementary School closed. For him; however, it was more than a building closing. He had spent 30 years of his life at that school as a student and then a teacher working alongside his former teachers. "When I went back to teach there in 1986, some of my former teachers were still there so I had built-in mentors to help me. It was very special to be able to teach with them and to continue to learn from them," shared Bill. He considered those to be the 30 best years of his life. So when the building reopened in 2012, as the School for Agricultural & Environmental Studies (SAGES), he knew he wanted to give back in some way. His two nieces and one nephew teaching at SAGES also fed his desire to return to the classroom where he cherished the special opportunity to help them as both a Volunteer and Guest Teacher. Among the plethora of topics he has shared over the years, a few memorable lessons include his cow eye dissection with 4th grade, researching and creating a "US President's Hall of Fame" with 5th & 6th grade, and making healthy snacks with 4K.
Along with seeing the lightbulb go on for learners, Mr. Ipsen explained his favorite part of working at SAGES is spoiling the kids with treats he "cooked up" to go with the lessons he has prepared. He also takes great satisfaction in the kids excitement at seeing he has put some of their work up in the hallway. "Volunteering and teaching at SAGES has been an awesome experience for me," shared Ipsen. "I am also a volunteer at the nursing home, where my mom passed away. The appreciation that I get from the residents there and the staff and students at SAGES is very rewarding to me!"
Mr. Ipsen, you are a "Hometown Hero" to us! We are grateful you are part of our SAGES' family and appreciate the passion, perspective, and professionalism you bring to our building. Thank you.