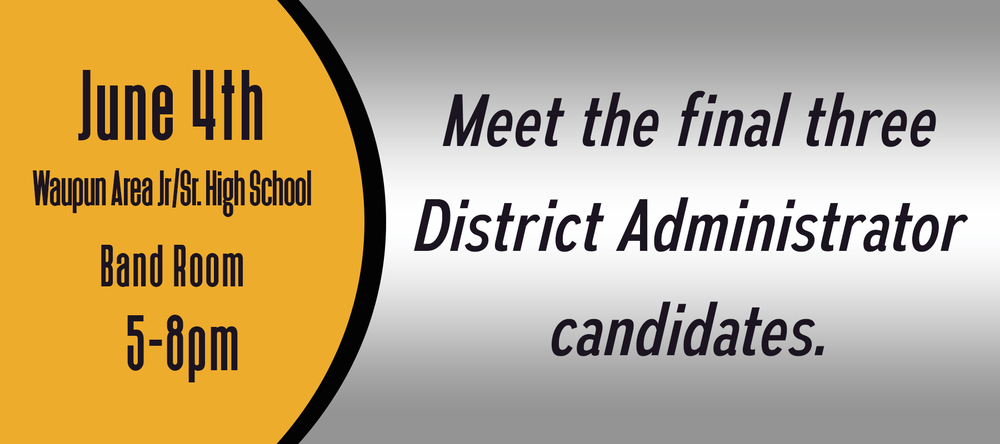 June 4 Meeting Set for the Community to Meet with Waupun District Administrator Candidates
WASD
Saturday, June 02 2018
Waupun Area School District Press Release June 1, 2018
June 4 Meeting Set for the Community to Meet with Waupun District Administrator Candidates
As the Waupun Area School District Board of Education continues to narrow their search for a new district administrator, an opportunity for the community to meet the final three candidates is set for:
Monday, June 4, starting at 5 p.m. in the Band room
Waupun Junior/Senior High School
801 E. Lincoln Street
Waupun, WI
This opportunity is open to any Waupun Area School District resident or staff member. At that meeting, the final three candidates will each give a presentation and then respond to questions from community and staff.
---
Presentations are at 5, 6, and 7 PM.
Each candidate will provide one presentation, at one of the times listed above. After his presentation, he will answer questions. The time schedule for each presenter has not yet been decided. To provide feedback to the Board, audience members must commit to attend all three presentations.
---
The Candidates
To narrow the field of candidates from six people to the final three, the Board of Education conducted interviews this week, and concluded interviews Thursday, May 31. All candidates met the criteria set forth for the position and participated in an interview with the full Board of Education.
The following three candidates were selected to return to the district and participate in the June 4 community event:
Jeffrey A. Mastin, District Administrator of Lake Holcombe School District, Lake Holcombe, WI.
Steven K. Hill, Principal, Woodworth Middle School, Fond du Lac School District, Fond du Lac, WI.
Timothy M. Kief, Ed.S, Principal, Chequamegon School District, Park Falls, WI.
---
The Board of Education will use the feedback collected Monday night as part of its deliberation process. It is anticipated that the Board will make a final decision on the new district administrator within the next several weeks, and finally approve the new district administrator at the June 25, 2018 regular Board meeting.
The Waupun Area School District is searching for a new district administrator to replace Dr. Tonya Olson, who resigned as district administrator in March to accept a new position in Belleville, WI.